DecadesTwo.1 Offers Chicago Some Luxury Goodies
A few days ago, the Hollywood-based consignment shop, DecadesTwo.1, made a stop in Chicago as part of their famous pop-up tour. DecadesTwo.1 is known for scoring pre-owned luxury items from A-list celebrities, stylists and all-around fashionistas. The travelling pop-up shop allows cities across the country to score hard-to-find items at easy-to-swallow prices.
No, these luxury items are not cheap. However, when compared to retail, you can expect to find items at discounted prices...some as much as 80% off.
I headed to the Chicago pop-up shop, at Space519, knowing that I would encounter some great finds. There was plenty of Chanel clothing but it was the jewelry that stole the show! The blue sequin Christian Louboutin pumps had everyone attempting to squeeze their feet in, in hopes that they would fit...talk about a modern day Cinderella story! There were also some unique and intriguing pieces like the
Burberry Knotted Skirt Trench
(at 50% off retail) and a pair of the Christian Dior Goddess sandals that uses naked sculptures for the heels.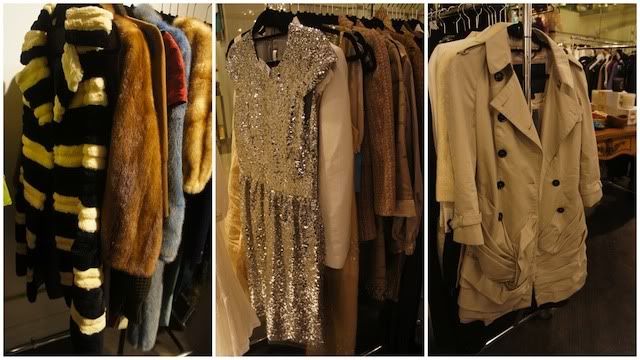 As expected, I ran into a few local fashionistas. We simply do NOT pass up an opportunity to drool over luxury designer items.
Brielle and Lindsay of Luxury Garage Sale; Raijean of Swa-Rai.com
And two of them were wearing Lanvin for H&M. Can you tell which ones?
If you missed the pop-up shop, no worries. You can now shop the merchandise online at
DecadesTwo1.com
. Just try not to max out the credit card.
Speaking of maxing out credit cards, this experience got me to thinking about the most I'd be willing to spend on a designer item. I've concluded that shelling out $2000 for a Chanel handbag is not too farfetched. But for a pair of shoes? Or an article of clothing? I could never see myself paying that much.
What's the most you'd spend on a designer item? Does it depend on what the item is?
Labels: Clothing, Jewelry, Shoes, Shopping Events