Fashion Fun at Dangerous Curves Ahead 2010
Tamika Martell of
A-Line Style Services
has done it again. The "Dangerous Curves Ahead" Charity Fashion Show and Women's Expo was a success! In its second year, this event was equally as fantastic as the last. The two major aspects of this event I truly loved?
1)
It was an "All Sizes" runway show featuring designers of straight as well as plus sized clothing and
2)
A portion of the proceeds were donated to the
Primo Center
to benefit homeless mothers and children.
Unfortunately, I missed my opportunity to peruse the 20+ vendors participating in the expo (I'm sure my wallet is grateful of that fact). However, I had a front row seat for the main event: the runway show. The show included several local designers, all of which had at least one item I wanted to get my paws on.
Here are some of my fashion favorites: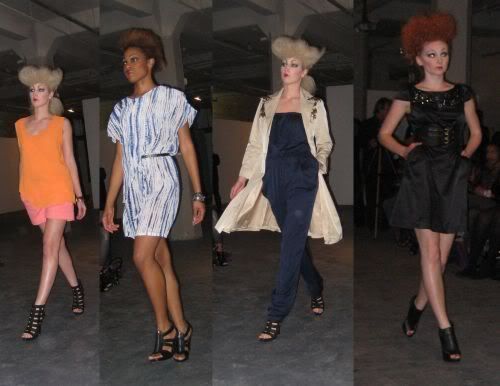 The shoes, provided by
Kham'ryn B
, were perfect complements to the designs. There were two distinct pairs that included what appeared to be a diamond-shaped crystal wedged in between the heel and sole (one pair also had 3 crystals lined down the front of the shoe). The crowd went crazy over those and rightfully so. Those were some
BAAAAD
shoes!
I must say, I felt right at home surrounded by stylish Chicagoans and engulfed by the music selections of DJ Sean Alvarez. It was a fun time and I'm SO looking forward to next year!
**UPDATE #1**
It was announced at the show that all shoes were provided by Kham'ryn B. However, I was just informed that the shoes pictured above were not. I'm still awaiting confirmation on the designer. As soon as I receive the information, I will provide another update.
**UPDATE #2**
It has been confirmed that Ra'mon Lawrence designed the shoes pictured above. Now, I'm awaiting a price quote since they clearly belong in my closet. :-)
Labels: Accessories, Clothing, Local Finds, Runway Shows, Shoes