Charming Charlie: Could it be accessories heaven?
With the New Year in full swing, I decided to kick things off with a post about a shop I discovered over the holidays.
Charming Charlie could easily be considered accessories heaven! Since this was my first visit, I covered the entire store, section by section. Wondering what I mean by "section"? Well, the greatest thing about Charming Charlie is that it's comprised of sections all organized by a color or themes such as animal prints, owls or statement bling. It's an obsessive compulsive's dream!
With so many great pieces throughout, this store can seem a bit overwhelming. If too many choices tend to prevent you from buying anything, my suggestion is to go there for focused shopping (i.e. searching for a specific color or looking to match an outfit).
My personal favorites were the rings. Not only was the selection substantial, but every ring was adjustable. This eliminates the concern over whether or not rings are available in your size. I also fell in love with the many vintage-inspired pieces like the Cameo pendants (on chain or pearl necklaces) and charm bracelets with antique-like finishes.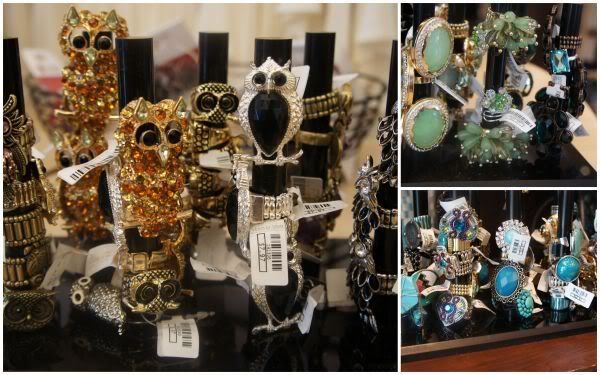 Now, are these pricey heirlooms to be passed down to your future generations? Not at all. Are they fun, inexpensive pieces that will add character to any otherwise boring ensemble? Absolutely. That's the beauty of costume jewelry, right?
In addition to jewelry, the store is filled with every accessory imaginable; from headbands to handbags to footwear. There's even a relatively small collection of clothing, mainly consisting of tops and outerwear, strewn throughout the store. And it's definitely worth a looksy. I also spotted some great gift items like pens, paperweights and notebooks.
With majority of the merchandise priced around $8-$15, Charming Charlie is definitely the place to get a quick shopping fix sans buyer's remorse. If you're not in the Chicagoland area, don't worry. There are several locations across the U.S. (click
HERE
for the listing). So, find your local Charming Charlie and get to shopping!!
Oh, and if you're wondering what I bought...
What do you think? Have you ever been to Charming Charlie? And if so, what were some of your great finds?
Labels: Accessories, Clothing, Jewelry, Local Finds