Modern Vintage continues to woo me!
I attended Modern Vintage for the first time in
October 2009
and have been an avid supporter ever since. Organized by the creators of the Randolph Market, Modern Vintage is typically filled to the brim with vendors selling jaw-dropping, heart-palpitation-ensuing vintage finds. And this past weekend was no different.
There were some new additions as well as the longstanding favorites. As usual,
Ladybag International
had everyone drooling over Chanel, Hermes and Fendi. While newcomer,
Joules Jewels Vintage
, introduced Modern Vintage attendees to her cute and quirky vintage clothing and accessories.
In general, I tend to focus on jewelry and handbags at these events. However, the clothing, hats and housewares equally gained my attention this time around.
I also ran into the enthusiastic Sally Schwartz, founder of the Randolph Street Market AND the ever-stylish Nena Ivon, the Fashion Director of Modern Vintage. This year, Nena decided to nix the runway show format and opted to have professional models walk around the event showcasing some of her favorite vintage pieces. As we discussed how brilliant the concept was, she escorted me to a few of her favorite vendors; one of which had THE most amazing handmade necklaces I'd ever encountered (as shown on the model above). And as a Georgia-based traditional seller (i.e. no website, facebook page, etc.), Modern Vintage is quite possibly the only place I would've had the opportunity to view his work.
Now do you see why I can't stop going?!?
Check out more of the fabulousness I encountered: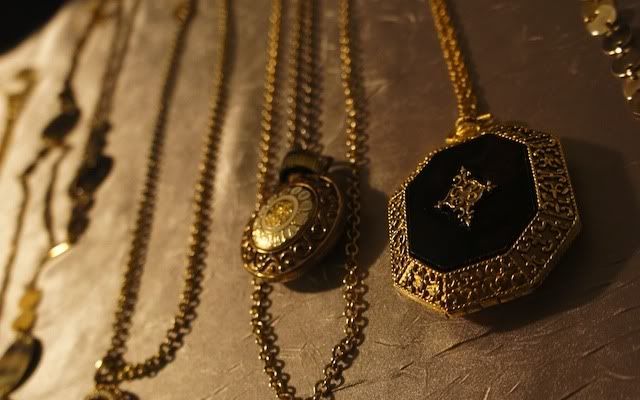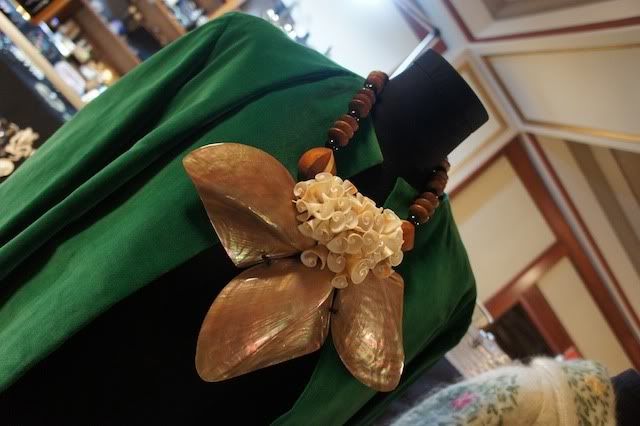 Visit
RandolphStreetMarket.com
for the full market schedule.
OK. You know the drill. Let me know what you scored at Modern Vintage. I'm dying to hear about your great finds!
P.S. There was another vendor/Etsy seller I finally had the chance to meet at Modern Vintage. She's so awesome, I'll be dedicating an entire post to her shop. So, stay tuned...
Labels: Accessories, Clothing, Etsy, Handbags, Jewelry, Local Finds, Shopping, Shopping Events, Vintage