It's SWABY Baby!!! - A Project Runway Contestant Makes Chicago Her Home
As you probably know by now, I'm a huge fan of the Randolph Street Market. One of the main reasons I fell in love with this market is because it introduced me to a fabulous designer by the name of
Shernett Swaby
. Shernett recently moved to Chicago from Toronto and is best known as the fifth place contestant from Season 1 of Project Runway Canada. Don't let her placing on the show fool you because her designing skills are first rate!
Shernett has two lines, SWABY and Model 29. There's not one item in either line that I wouldn't want to take home because everything is so wearable and extremely easy to incorporate into my wardrobe. Plus, her attention to detail is outstanding!
SWABY is couture at its finest. Period. It consists of lovely clothing, tailored to perfection as well as magnificent handbags constructed with sumptuous leather and detailing that would make even the most frugal of shoppers run home and break the piggy bank. My particular favorites are the dresses, outerwear and handbags.
Model 29 is her affordably priced line that consists of items all priced at $29. At first glance, you'll think that there must be a mistake with the pricing because the clothing looks so rich! Forget H&M and Forever 21. Model 29 allows you to look über-chic at a minimal price without having to shop at the same stores as the masses. Could we ask for anything more?!
Although the quality of her garments are enough to make you consider making a purchase, it is Shernett's super cool personality that seals the deal. It will only take one conversation with her to see the passion she has for designing and the fashion business, in general.
I've already purchased a Model 29 blouse similar to the one shown below and have my eyes set on a SWABY handbag (also shown below) that is to die for! Hopefully, hubby will deliver on my upcoming birthday. *wink,wink*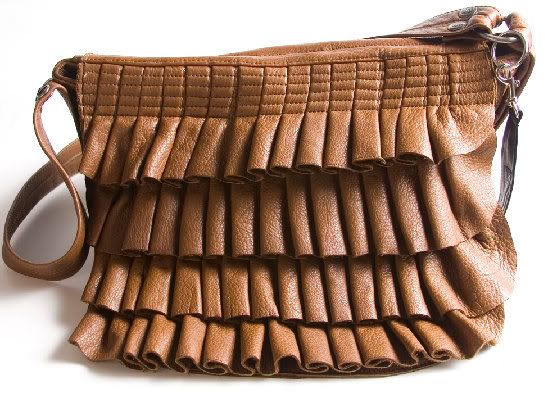 SWABY and Model 29 are available at the SWABY store located at 1933 N. Damen Avenue in the Wicker Park/Bucktown area. The Model 29 line can also be purchased at the
Randolph Market
. Visit
ShernettSwaby.com
for more photos and information.
So, c'mon Chicago! Let's welcome Shernett and show her that although Chicago is not a fashion capital (yet), we have a great appreciation for fashion and love for independent designers.
Images courtesy of shernettswaby.com