[ChiTown Feature Series] Enstrumental Clothing, A Place Where Fashion and Hip-Hop Meet
First, let me start by saying that although I absolutely love fashion, music is my first love! I appreciate all genres but Hip-Hop is definitely one of my favorites. Let's just say, my alter ego is a B-girl. Seriously.
This is exactly why I'm a HUGE fan of the Chicago-based clothing line,
Enstrumental
. If you ever bump into the owner,
Dwamina
Drew (shown above), the first thing you will notice is that he has great style and is not afraid of color. Drew's affinity with color and his love for the Hip-Hop culture is reflected in his clothing line.
Every shirt is created to make a statement; whether it's the politically driven '
Audacity
' and '
Politics as Unusual
' shirts
or
the '
Always Remembering
' shirt that pays homage to fallen Hip-Hop soldiers
or
the ever popular '
Rap - Lies = HIP HOP
' shirt that clearly demonstrates that the terms "RAP" and "HIP HOP" are not synonymous. Although each shirt carries a message, the element of fashion is never forgotten. The bold colors and graphics create visual interest that is not only stylish but also artistic.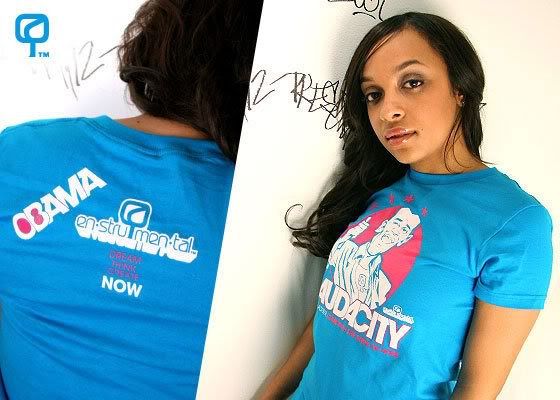 Enstrumental's
tagline
, "Bite Apples, Not Styles...", encourages the consumer to embrace the same individuality and originality shown in its clothing line. I really couldn't have said it better myself.
To view the entire line and make a purchase, visit the
Enstrumental

website
. Go ahead. Embrace your inner B-boy or B-girl. :-)
Now, for the fun part! There will be a '
Rap - Lies = HIP HOP
' t-shirt giveaway announced this Tuesday (May 18
th
) on the
internet
radio show, Vinyl
Vybz
, hosted by Chicago's own DJ
HasH
. Not one, but TWO lucky winners will be selected! Visit
DJ

HasH's

blog
for more details. Good Luck!
Labels: ChiTown Feature Series, Clothing, Local Finds