Posh Passé - New "Chic Greek" Line + GIVEAWAY (AKA Edition)
It's been almost a year since I blogged about the beauty of
Posh Passé tees
. Now, Posh Passé has launched a line of t-shirts specifically targeted towards black Greek sororities.
Chic Greek has been in development for some time due to the fact that the designer, Crystal Crayton, wanted to ensure that the tees were
a)
uniquely different from anything else on the market and
b)
an accurate representation of each sorority. With Chic Greek now ready to launch, Crystal has decided to introduce the line gradually to mirror the chronological order in which the sororities were founded. I simply love that idea!
That being said, the first Chic Greek tee to launch is for the women of Alpha Kappa Alpha Sorority Inc., whose motto is "A legacy of sisterhood and service". Founded in 1908 on the campus of Howard University, Alpha Kappa Alpha Sorority is the oldest Greek-letter organization established by African-American college trained women (visit
AKA1908.com
for the complete history).
"Pretty Chick is inspired by the lovely ladies who rock pink and green!
This is a modern day version of: "Pretty girls wear 20 Pearls"
Pretty Chick is a very feminine woman who holds herself on a pedestal, she makes no excuses for her self confidence….She knows she is pretty…."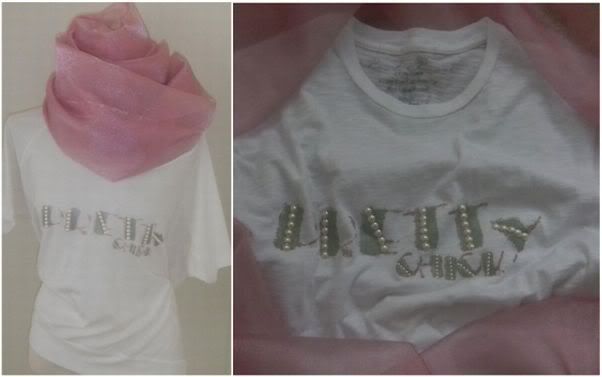 Adorned with the words "Pretty Chick" in pink and embellished with pearls, this tee is perfect for the fashionably chic AKA. Handmade with pima cotton, I can guarantee this would be one of the softest tees in your wardrobe. The sizes range from XXSmall to XLarge and the tee comes in three varieties: off-the-shoulder, fitted short sleeve and long sleeve. To make a purchase, visit
PoshPasse.com
.
Now for the fun part...

Posh Passé will be sponsoring a giveaway right here on ChiTown Fashionista to promote the launch of each individual Chic Greek tee! That's FOUR separate giveaways (for each sorority) plus one additional giveaway to include a Posh Passé tee from the regular collection for those of us that are a part of Me Phi Me. :-)
This week's giveaway is the "Pretty Chick" tee in either the fitted short sleeve or long sleeve version.
To enter the giveaway:
1. Follow (or subscribe to) ChiTown Fashionista via
Twitter
,
Facebook
or
Email
.
2. Follow Posh Passé on
Facebook
or subscribe to the mailing list on
the Posh Passé homepage
.
3. Leave a comment below indicating how you are following (or subscribing to) ChiTown Fashionista and Posh Passé. Be sure to include your email address and shirt size in the comment.
For an additional entry
: Retweet this giveaway.
GOOD LUCK!!
*This giveaway will end on Monday, June 28th at 11:59 PM (CST). The winner will be randomly selected.*
Labels: Clothing, Giveaways, Local Finds