"For The Love of Color" - A Tribute to Eunice Johnson
When I first received word that EBONY, Fashion Fair Cosmetics and Macy's would be hosting an exhibit in honor of Eunice Johnson, I was determined to do whatever it took to view it in person. We all know that Eunice Johnson was the wife and business partner of the late John H. Johnson (Johnson Publishing Company) as well as the brains behind Ebony Fashion Fair, the world famous traveling fashion show featuring models of color and the greatest American and European designers. So, to be allotted the opportunity to view some of the couture designs that were included in these shows, since its inception in 1958, is a once-in-a-lifetime opportunity!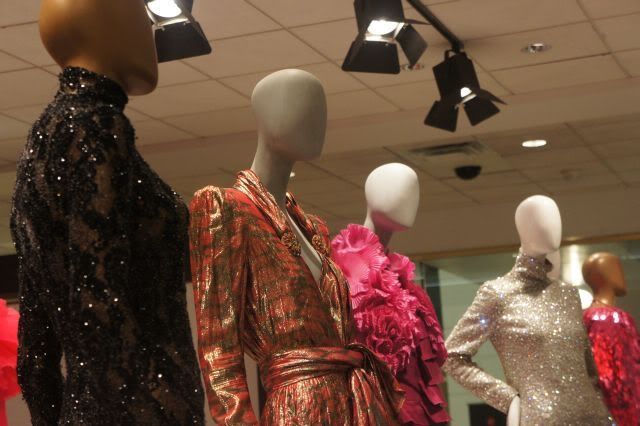 The "For the Love of Color" exhibit in Chicago features 15 amazing vintage designs from Eunice's collection of over 7000 items. It includes designers such as Oscar De La Renta, Valentino, Naeem Khan, Sarli and Emanuel Ungaro. Haute couture at its finest! The level of detail and craftsmanship on each piece is simply breathtaking.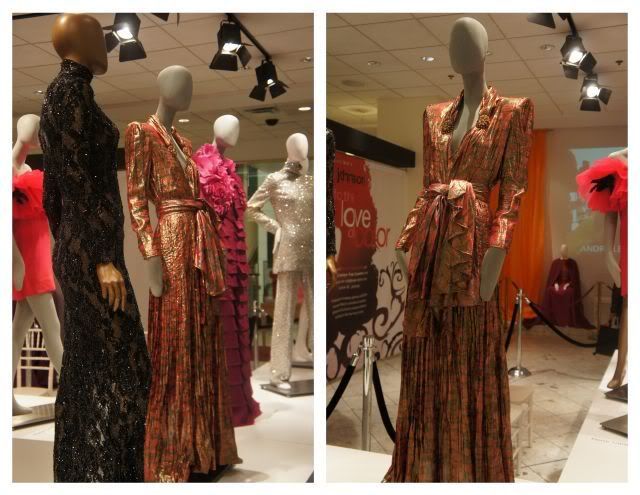 Amazing detail courtesy of Oscar De La Renta
Attending the EBONY reception* gave me a chance to not only view the exhibit, but to also celebrate it with some of Chicago's tastemakers while partaking in cocktails, hors d'oeuvres and great music.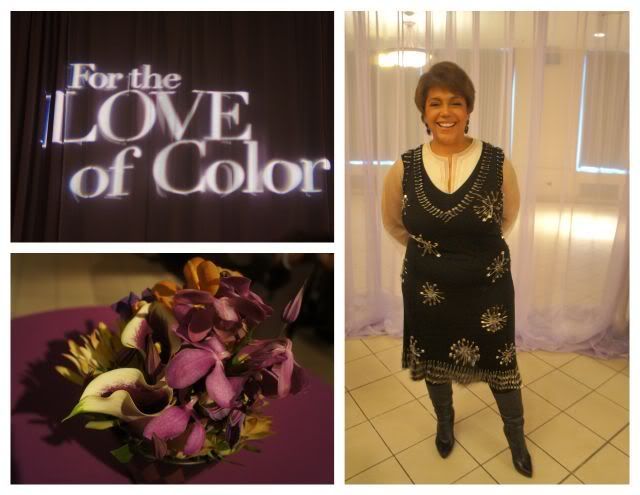 Linda Johnson Rice wearing vintage Tod Oldham from her mom's collection
Amy DuBois Barnett (EIC of
EBONY
) and
Afrobella
with Rodrigo Sierra
After viewing the exhibit, you will leave with a greater appreciation for fashion and a burning curiosity of what else could possibly be in the 7000+ collection. Rodrigo Sierra, Chief Marketing Officer of Johnson Publishing Co, admits it was a difficult process to narrow it down to 15 pieces. And when I spoke with Linda Johnson Rice about how crazy the size of the collection must be, she immediately laughed and confirmed it is indeed craziness! Let's just hope we will get to see the rest of the collection one day. With that many items, a museum inside of the Johnson Publishing Co. headquarters would be ideal. Wouldn't you agree?
The exhibit in Chicago ends February 7th. However, if you're not in Chicago, you may still have the opportunity to check it out in a city near you! The remaining cities and dates are below. You can also visit
Ebony.com
for more details.
With the overlapping dates, it's safe to assume that the designs on display will vary from city to city. So, be sure to come back and tell me all about your experience.
*A special thanks to Afrobella for the reception invite, and to Ebony Magazine and Macy's for such a wonderful event.
Labels: Black History, Fashion Events, Local Finds