College Couture Week teaches students (and me) Fashion 101
College Couture Week at the University of Illinois
ended over a week ago and I'm still on a high!
Fashion Talk
was amazing. I, along with Fashion Design professor Susan Becker, had the opportunity to speak to a room of fashion-enthused students about our respective passions. While I focused on fashion blogging and the Chicago fashion scene, Professor Becker touched on her experience in the fashion industry. Working for designers like Marc Jacobs, Professor Becker shared stories that taught me a a few lessons as well. If only we had her course when I was attending. Who knows what path my post-college career would have taken.
Throughout my entire blogging career, which is all of 2.5 years, I have to say
Fashion Talk
has been my most rewarding experience to date. I truly enjoyed sharing my background (e.g. how the London markets led to my creation of ChiTown Fashionista), my achievements as a blogger (e.g. guest blogging for Rue La La) and the recent momentum within the Chicago fashion scene (e.g. Borris Powell's Oscar Design Challenge win and the Kenmore reality series, "So You Wanna Be a Designer").
After
Fashion Talk
, I headed to the Trunk Show, where I had the opportunity to mingle with the students. I also had my first encounter with the fantastical up-and-coming t-shirt line from
Tom and John's Chocolate Factory
, the colorful footwear from
BucketFeet
and the photography genius
Gino Baileau
.
*more to come on all of them*
That evening, I returned home excited to make the drive back down to Champaign for the finale runway show.
As the official climax to the week-long festivities, the finale runway show was the main attraction. The looks featured designs by Goca Designs, Ciano Von Jo Designs, Kenneth Crowder and Alexandra Forrest - all of which are student designers. Also, my good friend, Jillian of Joules Jewels Vintage, made the trip downstate to showcase her exceptional vintage collection. The show was cleverly produced, the music was spot-on and the models, both male and female, worked the runway.
Here are some of my favorite moments: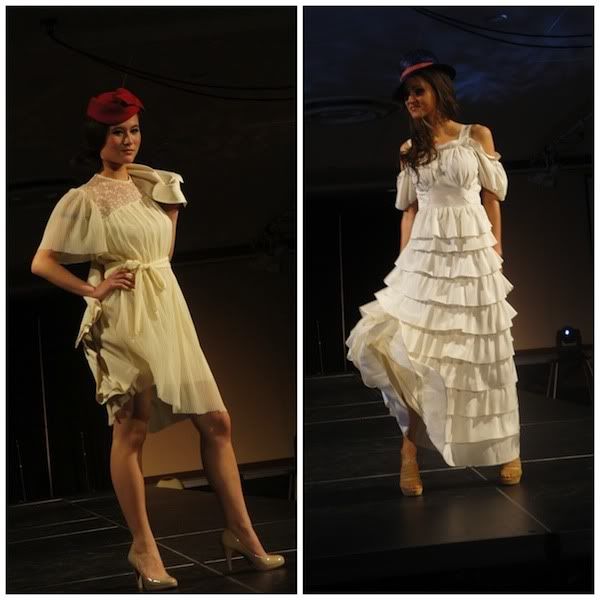 Click
HERE
to access my Flickr page with even more pics!
From my first encounter with the committee, I knew College Couture Week would be a success. And I'm pleased to have played a part in this inaugural event. I'm certain that the next one will be even bigger and better. Maybe I'll get to moderate a panel of Chicago fashion insiders....you never know. *wink* Regardless of my involvement, I will continue to support the College Couture organization as they work to expand fashion on the campus of the University of Illinois.
After this experience, I'm even more proud to be an alum! #GoIllini
Sidenote: Special thanks goes to Jenn Ruppert and the College Couture committee for the invite! And BIG LOVE to hubby, lil sis and my friend Andrea for being my road trip buddies. Your support means the world to mean. xoxo
Labels: Clothing, Fashion Events, Fashion Week, Local Finds, Runway Shows