Celebrating Bill Cunningham in Chicago!
Last Friday, I, along with Emma of
Trés Awesome
, hosted
a cocktail reception for the Chicago opening of "Bill Cunningham New York" (BCNY)
. It was SO great to witness a simple idea turn into such an amazing event!
Tula, a chic boutique nestled inside of a vintage brownstone and located directly across from the Music Box Theatre, was the perfect location to bring together our readers, fellow bloggers and local tastemakers to celebrate this inspiring documentary. The vibe in the room was electric! Style mavens mingled and shopped between cupcake bites and trips to the Daily Candy "Candy Bar"; while wine and Grand Marnier cocktails were on hand to quench everyone's thirst.
The vintage cameras and Trés Awesome photos included in the window display were a literal nod to the work of THE original street style photographer, Bill Cunningham. And the best part of it all? The photo sweep that captured everyone's personal style (click
HERE
to view the photos) for our "Best in Style" competition.
Visit Trés Awesome to see the winners!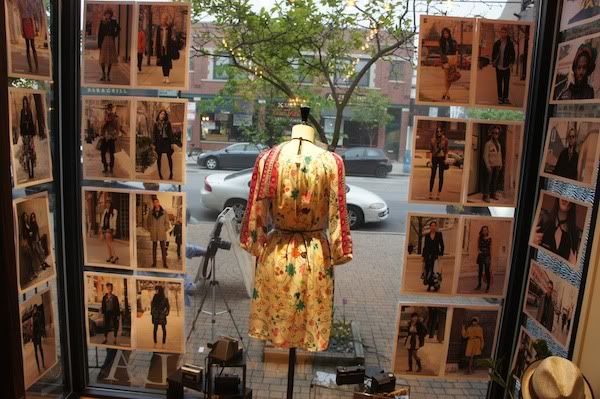 Richard Press (BCNY director) and Philip Gefter (BCNY producer) also made an appearance. I think it's safe to say their presence at the cocktail reception made the event official! Guests had the opportunity to chat with them about the film in an intimate setting. The experience was priceless.
Just as we hoped, many walked over to the Music Box to catch one of the two screenings that evening. Luckily, I had the opportunity to view BCNY at a private screening earlier in the week. I can't say enough about how phenomenal the film is. To have a sneak peek into the life of a man who has over 50 years of experience documenting fashion is a rarity. Philip Gefter describes Bill's work as "cultural anthropology" and I couldn't agree more. Bill's genuine love for photographing clothes (he cares nothing about celebrities) and the dedication he has to his craft is not only endearing, but inspiring.
If you're in Chicago, the film runs through May 26th at the
Music Box Theatre
. If you're not in Chicago,
check the listings
to find out when it will be showing in your city.
I've been thanking people all weekend on
Twitter
and
Facebook
...my mom taught me well. *smile* But I can't say "thank you" enough to those that came out to support our event and celebrate with us, all in the name of fashion. Even Mother Nature blessed us with wonderful weather that day!
Last but not least...
Oh, and for those wondering what was inside the gift bags...
Pretty good swag, huh?
Click
HERE
to see the rest of the photos.
*Special thanks to Music Box Theatre and Zeitgeist for their cooperation and support.
**Extra special thanks to Laura Westgate at Tula for allowing us to utilize her space.
Labels: Fashion Events, Local Finds