Finding the Perfect "Puffy" Coat
I've had many conversations regarding where to find the perfect down coat (a.k.a. "puffy coat"). Although we want to stay warm, we don't want to look like oversized snowmen! Fortunately, I was able to find a fabulous Michael Kors down coat a couple years ago that's practical yet fashionable. If you're wondering what makes a puffy coat fashionable, there's one simple answer....FIT!
When searching for the perfect winter coat, it is very important that it accentuates your curves if you have them or creates curves if you don't. It's always best to try coats on before buying. My favorite places to look for coats are Burlington Coat Factory, TJ Maxx or online. When shopping online, there's no opportunity to try before you buy. Therefore, it is important to look for key words within the description such as "belted in the waist", "contoured waist", "panel (or band) around waist" or "princess seams". These are great indicators that the coat will not be straight and boxy. A belt or panel around the waist will cinch in the coat at the smallest point of your body (for most). And what are princess seams? If you notice the seams of the coat are creating a shape like this ->
)(
, you've got you a winner!
Below are some perfect puffy coats that I've seen online recently. My goal was to find coats that were available in a variety of sizes...you know I have to look out for the women that are size 14 and up. So, if you've had problems finding a form-fitting down coat, check these out for a little inspiration.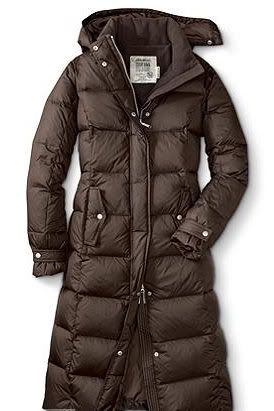 Eddie Bauer Yukon Classic Down Duffle Coat
Regular
Plus Size



Larry Levine Long Pillow Collar - Macy's:
Regular
Plus Size



Marc New York Long Belted Down Coat - Bloomingdale's (Regular Size only)



Larry Levine Down with Faux Fur Hood - Macy's (Plus Size only)

More of my favorites...