Rightcliq: The Shopping Tool by Visa - Is it an Online Shopper's Dream?
Online shopping is sort of a big deal. With 2009 e-commerce sales totaling $130 billion*, shopping online is not only popular with self-proclaimed shopaholics like myself but also with individuals simply seeking to comparison shop or find a perfect gift. But with so many e-
tailers
, how does one stay organized? What is the best way to share our finds with others? How do we keep track of all the items being shipped to us?
This is where Visa's new online shopping tool,
Rightcliq
, comes in. The goal of
Rightcliq
is to help you eliminate the growing list of bookmarks, cut down on those 'Email a Friend' messages you're sending to your friends from various online shops AND track all your shipments in one central location.
Here's how it works...
Rightcliq
has a '
Wishspace
' that keeps track of all the items you're currently lusting after. Adding items to your
Wishspace
is easy: go to the website of choice, click the
Rightcliq
by Visa plugin tab in your browser and select the item you wish to add.
Rightcliq
automatically gathers the necessary information (i.e. style name, purchase price) and adds it to your
Wishspace
. You can attach your own notes to the item or even bundle items, which is great when you want to share a group of items with friends for their opinions or with hubby for "gift ideas". Within a few minutes, I'm addicted to the
Wishspace
capabilities.
When you finally decide to buy something, you can use
Rightcliq
to track your shipments by adding the tracking number(s) to your account. This allows you to check the status of all your packages in one spot. Needless to say, I can't wait to try out this feature.
The perks also include the 'Latest Offers' section on your dashboard that list current deals at some of your favorite e-
tailers
.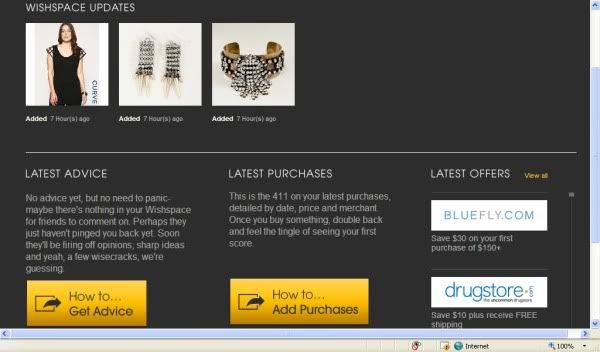 As a newly launched tool,
Rightcliq
may initially experience some bumps in the road. However, with its innovative concept and attempt to address the many needs of the savvy online shopper, I am ready for the ride. Will you be joining me?**
Sign up on the
Rightcliq

website
to
get the plugin
and begin optimizing your online shopping experience.
*source:

Comscore

.com
** There are some privacy concerns surrounding

Rightcliq

. Make sure you read the
Privacy Policy
to determine if there are any functions within

Rightcliq

you'd like to avoid.
Labels: Shopping, Style + Tech