5 Signs of a True Shopaholic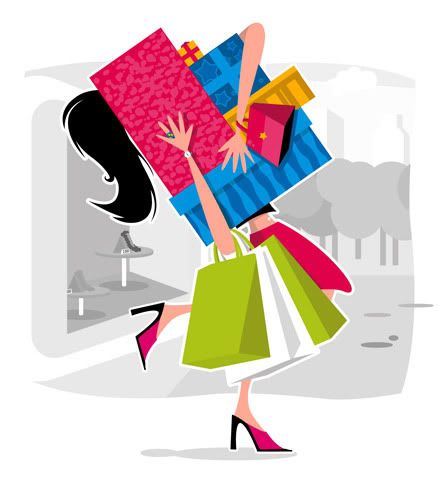 Being that I am the "enabler of fashion consumption", I take pride in my ability to encourage others to shop. Plus, I'm admittedly a shopaholic. How do I know?

Here are my '5 Signs of a True Shopaholic'.

1. Your shopping wish list changes daily: I try so hard to focus on a specific list of items when determining my next purchases. However, my list is constantly changing! I blame the internet for this. With all the fashion bloggers (oh, that would be me, huh?) highlighting new product lines, up-and-coming designers and sample sales, it's hard not to succumb to all the wonderful things in the marketplace.

2. You manage to find something to buy no matter the store: From Nordstrom to Best Buy to Home Depot, I ALWAYS find an item I want need. Not only do I love fashion but also music, beauty products, electronics and home decor. Place me in any store and I'll come out with something...anything

3. You're in love with the act of shopping: Even when I have no intention (or money) to make a purchase, I enjoy window-shopping and adding items to my shopping cart (virtual or otherwise). Browsing the selections and checking for trends are close runner-ups to actually making a purchase.

4. You buy things just because they're on sale: Although I'm working on this, I fall victim to this bad habit on occasion. It's so hard to pass up sale items, especially when they're more than 50% off! What do you expect me to do?! The best way to avoid the sale trap is to stick to your wish list. If an item that you've been coveting goes on sale, then by all means, GET IT! However, if you're buying designer harem pants that you have no real intention of wearing, simply because they're more affordable, STEP AWAY!

5. You forgo (or considered forgoing) meals to make a purchase: There have been plenty of times when I've been out shopping with friends and we'll forgo a meal just so we can continue shopping. I mean, who has time to eat when there are sales to enjoy?! My key to survival here is packing a couple of granola bars in my handbag for quick consumption and uninterrupted shopping. On the other hand, I'm also known for jokingly saying, while in the middle of making a big purchase, "I'll just eat Ramen noodles for the rest of the week". As funny as it sounds, it's a sad state of affairs if you're dead serious. We must never get to a point where we're sacrificing healthy eating habits for a pair of Louboutins. NEVER.

This leads to some important points:



If you can't afford it, don't buy it: Going into debt should never be an option.


Don't purchase loads of fast fashion simply because it's affordable: I love trendy items as much as the next

fashionista

. But, for classic pieces, channel the days of yore when consumers would save for weeks - sometimes months - to purchase high quality items. These items are worth the wait and last a lifetime or longer. There have been many debates on whether clothing is an investment since for most items, there is no "appreciation". My argument would be that the return is not always monetary. How awesome would it be for you to pass on a timeless, well-made piece to your daughter/son?

Uber

awesome, in my opinion.
So, continue to live and breathe shopping....Lord knows I will. The challenge is to be more sensible, focus on quality instead of quantity and STAY.OUT.OF.DEBT.
From one shopaholic to another...
P.S.
If you have any more shopaholic traits and/or tips to to share, feel free to comment. I'd love to hear your thoughts!
Labels: For The Shopaholics, Shopping