The Vintage Bazaar - Treasure Hunting in Hot Darkness
This past weekend, I attended the
Vintage Bazaar
. I was looking forward to it since I missed the inaugural event earlier this year. Held, this time, at the Congress Theater, I was also curious as to how they would organize the 65+ vendors for the event. As it turns out, they removed all of the lower level seating to create one large open space.
Upon entering the theater, there were two things that I, as well as my vintage shopping buddy Annette, noticed immediately -
1)
The lighting was dim and
2)
it was extremely PACKED! That didn't stop us from finding some great treasures, though. From belts and baubles to fur jackets and vintage eyeglasses, there was so much under one roof!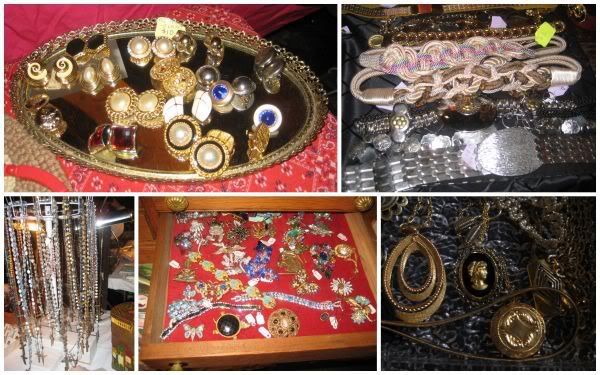 I was glad to finally meet some local vintage shop owners like Jillian of
Joules Jewels
(my "twitter-only"
bff
until then) and Coyote from
Labrabbit

Optics
(EVERYONE wanted a pair of his frames). Although I spent majority of my time AND money with those two guys, every vendor had at least one item I wanted to take home.
Jillian (with beau, Elvis)
Coyote and his fabulous wares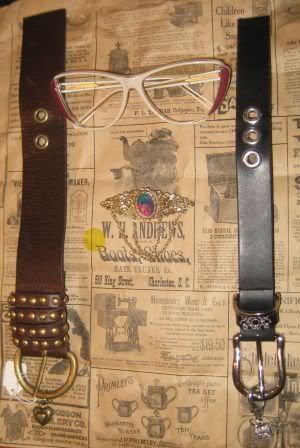 My purchases:
Frames from

Labrabbit

Optics
Brooch from Joules Jewels
Leather Bracelets by a 12 year old named Celina (yeah. amazing!)
There were some complaints about the heat and lack of ventilation. I must admit, it did feel like being in a sauna. Additionally, the dim light made it difficult to really see the details on some of the items (which could turn out to be a good or bad thing depending on how you look at it). I'm sure the organizers behind Vintage Bazaar, Katherine
Raz
and Libby Alexander, will work out those kinks for the next time. And you can count on yours truly being there to enjoy more of the great vintage this city has to offer.
Did you make it to the Vintage Bazaar? If so, did you find any goodies?
Labels: Accessories, Clothing, Jewelry, Local Finds, Shopping, Shopping Events, Vintage