Guest Blogger: Top Picks from NY Fashion Week SS 2011
Check out which three designers SinnamonS (our guest blogger and local fashion maven) fancied at NY Fashion Week SS 2011:
Ralph Lauren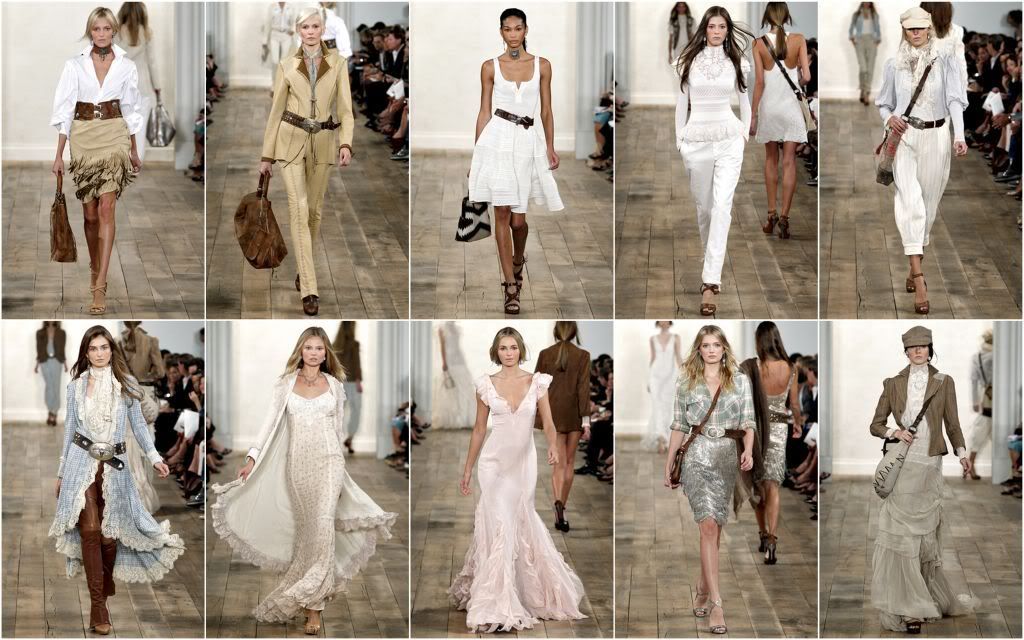 The Ralph Lauren
collection was all about the Sexy Equestrian/Cowgirl. He has reinvented this look countless times in his 40-plus-year career, but he always manages to give us new surprises and this season was no different. Trends this season seemed to be more muted and based in earth tones. And as usual, Ralph Lauren was right on trend. His color palate mostly consisted of white, lots of browns as well as a few pale pinks and blues with silver accents. The blouse also made a statement on the runway but with a Victorian twist.
There were many belts, bags and fringe. The show displayed a fresh take on the masculine-feminine counterpoint with the inclusion of the pairing of free-flowing dresses with utilitarian leathers, laced-up suede and embroidery.
It was a simply stunning collection. When it's time to make a purchase, visit the local Ralph Lauren at 750 N Michigan Ave.
So make sure you update your Spring/Summer 2011 Collection with a Little Cowgirl. Why? Cause SinnamonS said so!
---
L.A.M.B.
L.A.M.B. has always pulled a very large chair up to the table when it comes to fashion by taking risks and making bold statements.
For Spring 2011
, Gwen Stefani did not disappoint. Her influence for this collection vibrated to an Afro-Caribbean beat, which is no surprise seeing as you can hear this particular influence all throughout her music. Gwen's L.A.M.B. collection was all about a varied use of African Prints from which most designers would've steered clear. However, that's what makes L.A.M.B. the unique label that it is!
Aside from the obvious use of color, tie-dye and prints, Gwen also added some great pieces of all black, mixed blend fabrics, plaids and amazing sheer pieces. This collection completely stayed true to the L.A.M.B. aesthetic of Rock mixed with Island and Punk. Stefani's dresses and drop-crotch trousers were probably some of the best pieces aside from the effortless jackets which added its own flair. There is definitely something for everyone in this collection.
This was an awesome collection. Check out L.A.M.B. at your local Nordstrom!
---
Badgley Mischka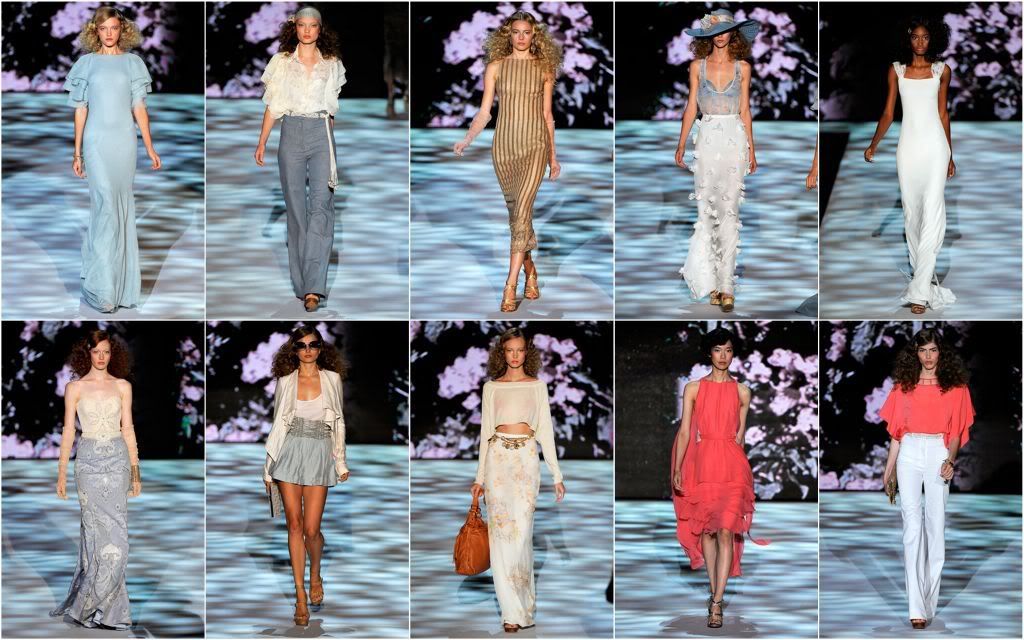 For Spring/Summer 2011
, Mark Badgley and James Mischka took their inspiration from the 1988 film, White Mischief. There was a group in the movie that apparently dressed impeccably while behaving quite badly, particularly when the sun went down. The design duo Badgley Mischka are known for their red carpet creations. And with this collection, it looks as if they are taking red carpet dressing to new heights. Taking influence from the 70s & 80s and playing with a naughty-nice sensibility, Badgley Mischka gave a wide range. The collection gave you a great range of color from gold, icy silver, white, powdery pinks and icy blues which kept the collection light and angelic at the same time.
This show was all over the place but in a good way. The pair showcased three collections at the same time—couture, ready-to-wear and the contemporary Mark & James line. Even though there were various collections, it still made sense. The decadence of the collection played out nicely with long flowing dresses (some with unique appliqués), cropped tops, naughty sheer pieces, high-waisted pants, floppy-hats ans well as one-shoulder and strapless gowns. This collection was both elegant and youthful. Stylists will be clamoring for many of these dresses for red carpet events. I'm excited to see what happens.
For more, visit
http://www.badgleymischka.com/
.
---
-Shanna S. aka SinnamonS
Contact her directly via email
Check out her London Fashion Week SS 2011 recap
HERE
.
*photos courtesy of Style.com
Labels: Clothing, Fashion Week, Guest Bloggers