Fashion Focus 2010 Studio-808 Accessory Style Lounge: Local Designers and My Personal Pledge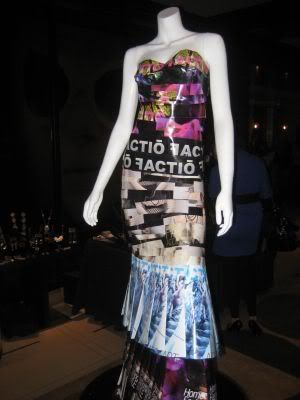 Typically, during any fashion week, accessories take a back seat to the garments seen on the runway. In the fashion world, where styling can make or break a runway show, accessories are the greatest "supporting actors".
Harper's Bazaar recognized this fact when they decided to host their first ever Accessories Bazaar during NY Fashion Week this past September. In Chicago,
Studio-808
followed suit with their Accessory Style Lounge during Fashion Focus 2010.
With only six participating designers, this event managed to inspire me to make a personal pledge...which I'll get to later. First, let's discuss these awesome local designers.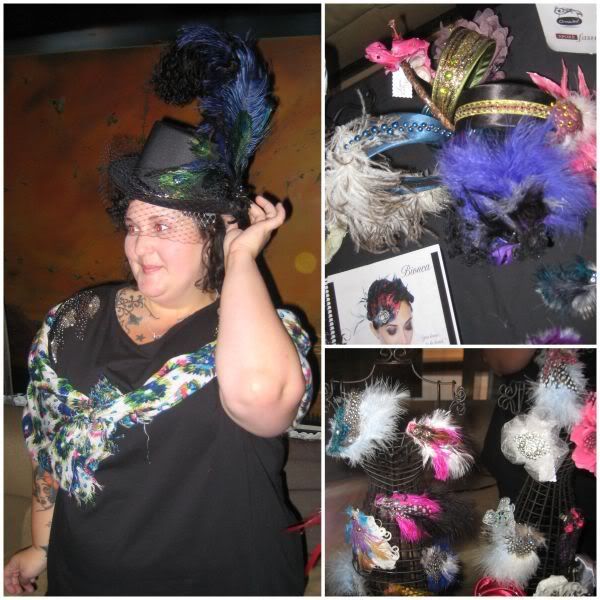 Love, Lulu Mae
http://www.lovelulumae.com
Saying that Love, Lulu Mae's headbands, multipurpose hairpins, masks and top hats are eye-catching would be an understatement. Using findings such as vintage brooches and Swarovski crystals paired with accents of feather and tulle, the designer, Agnes (shown above), has created a line of amazing handmade headpieces. Taking center stage was the top hat with a netted veil, feathers and large plume. It is theatrical yet perfect for a fun night out! As if her current collection is not enough, Agnes also makes custom items. So, whether it's a photo shoot or a masquerade ball, she's got you covered.
---
Jules
http://shopjules.com
Jules is a jewelry line that I had always heard about but never had the opportunity of seeing in person. Thank goodness I finally got my chance! The designer, Julie, knows how to work the heck out of metal and gemstones. The high level of craftmanship and the brilliance of the light reflecting off the stones made me want nearly every item in her collection. However, it was her unique pieces such as the
Bijoux Square Bangle
and the
Wrist Wring Bling
that sealed my fate as Jules' #1 fan. Julie is truly an artist.
---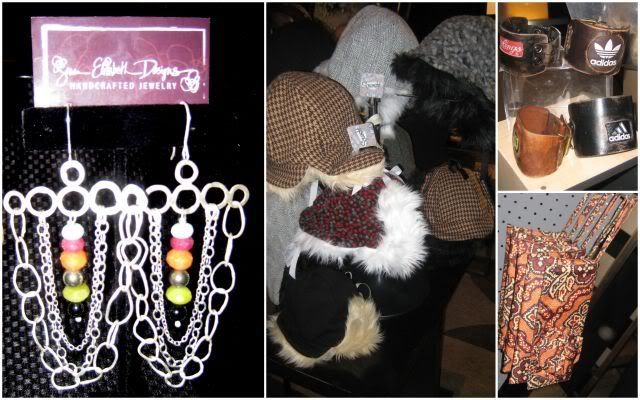 Other great finds included:
- the metal and beaded earrings by
Susan Elizabeth Designs
(such dangly goodness)
- the hats with ear flaps by
Squasht by Les
(been pretty much lusting after these for over a year)
- the wrist clutches by
Lisa Spagnolo
(striking colors and patterns)
- the leather bracelets by
Sophia Forero
bearing the logos of brands such as Addidas and Wilson (perfect for my b-boys and b-girls)
Viewing all of these great accessories and experiencing the enthusiasm each of these designers had for there respective line compelled me to make a personal pledge. I have decided for this upcoming holiday season, to purchase most, if not all, of my gifts from local designers! I figured it would be a great way to support these independent artists and take advantage of the unique, one-of-a-kind items they have to offer. As usual, I'll keep you up to date on my purchases via
Twitter
.
Did you make it to the Studio-808 Accessory Style Lounge? What did you buy? Who was your favorite designer?
Labels: Accessories, Fashion Focus Chicago, Fashion Week, Jewelry, Local Finds