Fashion Focus 2010 Dress Code - "Off the Grid": Student Designers Represent
The Dress Code runway show during Fashion Focus gives design students an opportunity to give the city a glimpse of what they've been up to. As one might guess, it is the most avant garde of all the runway shows. This year's show, entitled "Off the Grid", included everything from potato sacks to wooden wings. The four design schools were represented well...as shown by the designers and the crowd of students that supported them.
And now, the fun stuff:
School of the Art Institute of Chicago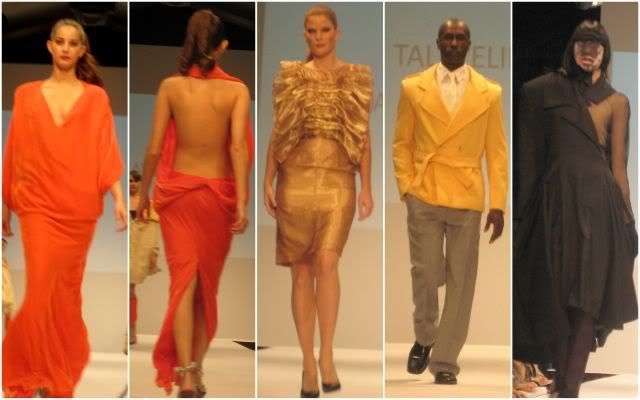 - The orange velvet dress by
Katie King
literally brought sexy back.
-
Talia Elinoff
's gold dress with uniquely placed horizontal ruffles is perfect for a cocktail party. While the yellow double breasted and belted jacket presented us with an ideal way to add color to a man's wardrobe.
- Although, not necessarily the most wearable,
Luis Rodriguez
's innovative half sheer, half suit dress managed to "wow" the crowd even after the initial shock of the eerily fantastic masks donned by the models (reminiscent of
Junya Watanabe S/S 2011
).
---
Columbia College Chicago
- The hard edges of the fossil-like headpiece were the perfect complement to the voluminous ruffled dress by
Christina Yi
.
-
Elizabeth Weidner
's coat with asymmetrical button detail put a twist on the military look.
-
Dana Farella
cut, twisted and turned wool tweed in every way imaginable.
- Only two words for the
Maureen Sullivan
finale dress. Simply. Gorgeous.
---
The Illinois Institute of Art-Chicago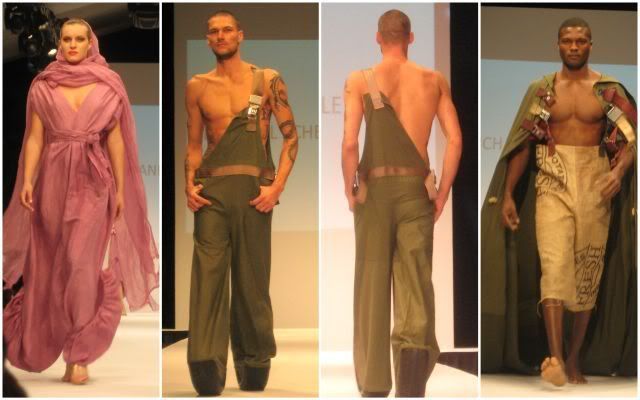 - The gathered hem detail on this dress by
Suzanne Anderson
gave the illusion of a jumpsuit. I kept asking myself, "is it a jumpsuit?" "is it a dress?" Either way, I like it.
- The potato sack and one strap overalls in
Michael Schellenbach
's collection were impractical yet noteworthy.
---
The International Academy of Design and Technology
- Color-blocked brocade,
Hakeem Gayden
? Yes, please.
- An angel with wooden wings,
Alexandre Chandoa
? Absolutely.
Which school(s) do you think had the best designs?
Labels: Clothing, Fashion Focus Chicago, Fashion Week, Local Finds, Runway Shows