Lanvin + H&M: The ChiTown Fashionista Experience
I did it. I braved the long line and the crowd for a chance to purchase something from the Lanvin + H&M collection this past weekend!
As soon as I heard about the
collection
, I was determined to check it out in person. Fast forward to the night before the launch, which is when I received word that people were already forming a line outside the Michigan Avenue store. At that moment, I made
what I thought to be
a decision not to go. If people were lining up at 8pm the night before, how ridiculous would the line be in the morning? However, the shopaholic in me decided to set my alarm for 5am anyway. When the alarm went off, I checked twitter and
@CurlyInTheCity
had tweeted that she was in line with about 80 other people. I immediately phoned my fellow blogger and ultimate ride-or-die shopping partner,
Raijean
. Next thing I knew, I was in the car with Raijean and heading to H&M.
We hopped in line and after a few minutes, Starbucks was passing out complimentary coffee and pastries. An hour and a half later, the H&M staff passed out the shopping rules and the color coded wristbands. The wristband colors designated which 15 minute time slot you would have to shop the women's collection. Yes. There was serious organization. I was in group H, which meant I couldn't shop until 10:25am!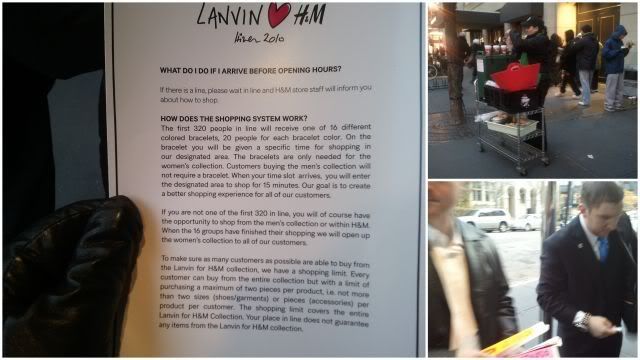 shopping rules, starbucks employee, H&M staff handing out wristbands
We remained in line until the store opened at 8am just so we could get inside to warm up and check out the men's collection. As everyone poured into the store, we were greeted by mannequins clad in Lanvin, enthusiastic H&M staff and sounds being pumped by a live DJ.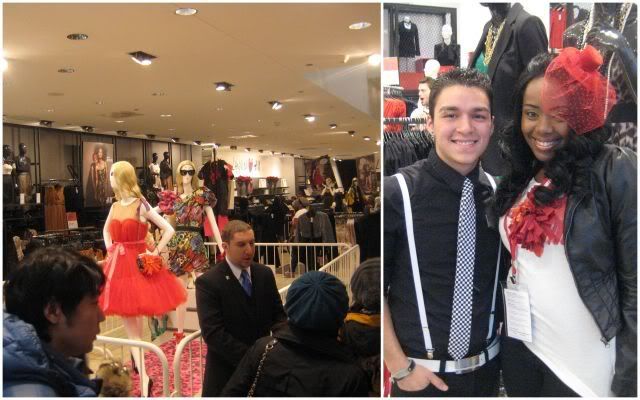 crowd pouring into the store, H&M staff
Everyone rushed straight upstairs to the Lanvin men's collection where chaos ensued. Within a few minutes, mannequins and signs were removed by staff (for fear of mass destruction) and racks were almost bare. It was utter madness!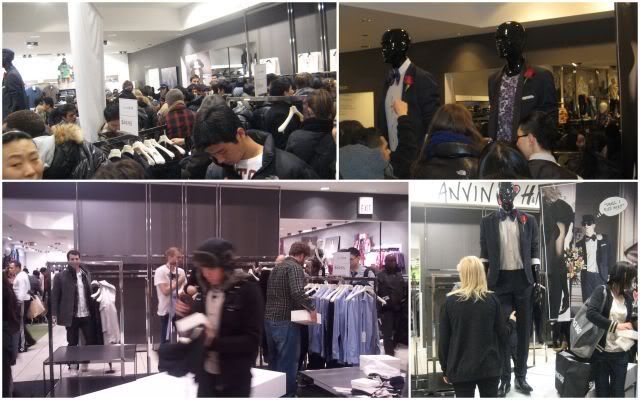 chaos in the men's section
We decided to stay in the store and keep an eye on the women's collection to ensure the merchandise was not running out.
Side note: My main goal was to obtain the red chandelier necklace. Since I didn't know how long it would remain in stock, I tweeted my buddies
@ChicagoStyle
and
@EyeAdorePretty
to see if they could grab one for me during their 9:05am slot. They did and I am forever grateful!!
I was very glad to see that the staff was replenishing the merchandise in between each time slot and there appeared to be an ample supply of mostly everything.
the women's collection
By the time 10:25am arrived, the chandelier necklace was gone. However, there was a lot of clothing from which to choose. Although the dresses and outerwear were well-made, I had my eyes set on the t-shirts. Once I grabbed my shirt, I checked out the shoes. I was a bit underwhelmed by the quality so I proceeded to checkout.
Overall, I think the Lanvin + H&M collection is one of the best designer collaborations I've seen. Although the shoes were not up to par, the party dresses, skirts, faux fur outerwear and jewelry were delightful. My only gripe is with the sizing. The clothing only went to a size 10 AND I was told that the size 10 fit like an 8. It was definitely disappointing for many and I'm sure H&M will hear about it.
Wondering what I purchased?? Well...the red chandelier necklace (of course!), the "sexy legs" t-shirt (love the detail) and a canvas tote (whose proceeds benefited UNICEF). My purchases were 100% worth the wait! And if I had to do it all over again, I certainly would.
my loot
So, tell me. Did you get a chance to shop the collection? What did you think? What did you buy? Was there pandemonium in your city? Feel free to share your story.