Fashion in Detroit 2010: The Midwest Represents!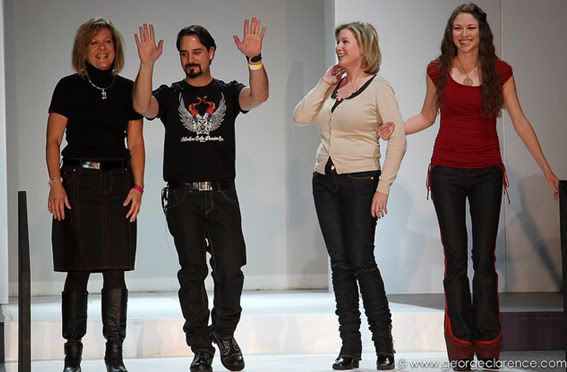 Joe Faris with the Motor City Denim Co. design team
Fashion in Detroit
occurred on the tail end of
Chicago's Fashion Focus
. In spite of all the events going on during Fashion Focus, I was determined to make the trip to Detroit for day #2 of the event. With an executive committee that consists of heavy hitters in Detroit fashion, including Joe Faris of Project Runway fame, I was excited to see what Fashion in Detroit had to offer.
Now, let's take to the runway, shall we?
Femilia Couture
http://femiliacouture.blogspot.com/
Created and produced in Michigan, Femilia Couture is a hybrid of high fashion and organic clothing. Designers Emily Thornhill and Fotoula Lambros showcased an all-white collection on the runway. From pant suits to jersey dresses to evening gowns, everything was well made and simply adorable. Initially perceived as a only "concept", I thought the all-white idea was brilliant. It allowed the designs to speak for themselves and made women want to buy a perfect little white dress next Spring. Then, I find out that the all-white "concept" was meant to provide onlookers with a blank canvas since everything can be created in a host of different colors. I was in love. These items, already lovely and beautifully constructed in their purest form, can be produced in a color of my choice?!?! Where do I sign up? With majority of their garments priced under $200, all of which are customizable to any size, Femilia Couture was definitely one of my favorite collections of the day. I jokingly tweeted that I would have to cheat on Chicago fashion with Femilia Couture but there may be a little truth to that. *wink*
---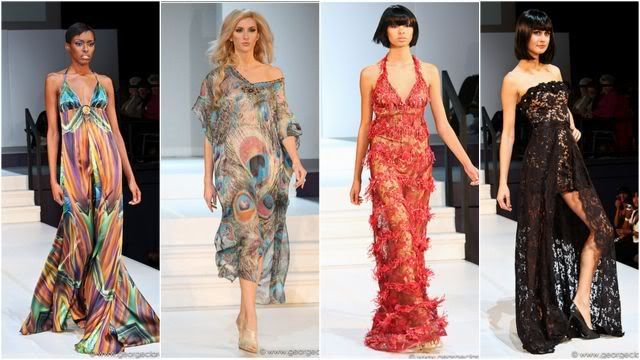 Christiane LaRue by Bonnie Foley
http://www.christianelarue.com
From zebra to art deco, the print dresses were feminine and appeared effortless. The French lace garments, however, were my personal favorites. The lace wrap skirt, mini-dress and formal gown were the showstoppers. The red lace and feather dress was elegant yet slightly revealing...leaving just enough to the imagination. This collection was definitely created with the flirty girl in mind.
---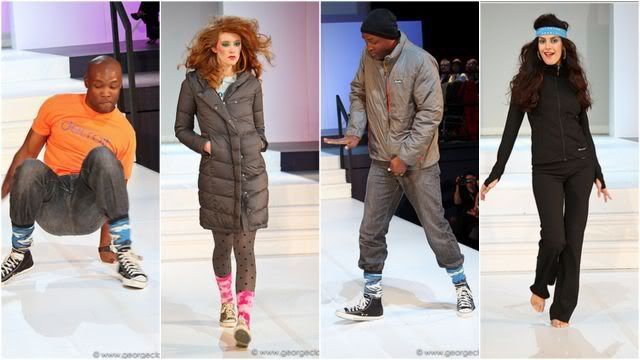 Moosejaw
http://www.moosejaw.com/
Known for it's selection of cold-weather outerwear, including their signature line and other major brands like North Face, I didn't know what to expect from the Moosejaw runway show. It turned out to be the liveliest show of the bunch! The outfits weren't necessarily groundbreaking or innovative (although I did love the colorful socks and jackets with thumb holes), but who doesn't need practical outerwear when battling the cold Midwest winter? Moosejaw compensated for the lack of "design" with a high level of entertainment. Every model danced on the runway (there was even breakin' and pop-lockin') to the beat of great songs like
"Din Daa Daa'
. Was I overwhelmed by the fashion? Not so much. Was it a memorable runway show? Absolutely.
---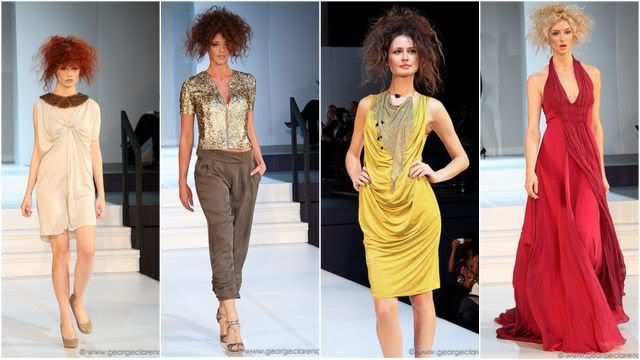 Heike Jarick
http://www.heikejarick.com/
Heike Jarick is a German born, New York based designer whose designs have graced the red carpet. Her runway show was full of color, sequin, a ton of draping and amazing statement jewelry. The porcupine-like detail on the suede collar that turned out to be beading had me in awe. (check out the closeup below).
Heike understands a woman's body. The draping and fabric choices on the dresses made me want to slip into each and every one of them. When I asked her why she decided to show at Fashion in Detroit, her response was "I was invited. So, I figured 'why not?'" And that free spirit is exactly what made me an official fan of Heike Jarick.
---
Prophetik by Jeff Garner
http://www.prophetik.com
Jeff Garner is known for his amazing sustainable fashion. Hailing from Tennessee, Jeff Garner is yet another designer who supports the great things brewing in the Detroit fashion realm. Having shown at London Fashion Week, many people, including myself, were anxious to see the collection. However, when volunteers started laying sod on the runway prior to the showing, the anticipation was amplified to the umpteenth power. What was to follow would be an unforgettable runway show with a medieval twist - as shown through the clothing, the live banjo player and cloak-wearing vocalist. The dresses had great movement. At times, the models appeared to be floating down the runway. I was also intrigued by the garments that seemed to have been dipped in contrasting dye. It was a unique technique that was very well-executed. Sustainable fashion never looked so good.
---
Motor City Denim Co.
http://www.motorcitydenimco.com
The Motor City Denim Co. clothing line exudes Americana. With
Eminem's "Welcome to Detroit" song
blaring through the speakers and the American flag incorporated into many of the pieces, designer Joe Faris represented his blue-collar state and America as a whole. My favorite items were the leather and denim jackets as well as the dresses with the exposed zippers. Actually, zippers were used throughout the collection, most notably as embellishments on the denim jackets and the back pockets of the jeans. Clothing aside, the real highlights of the runway show were the models. Every day women of varying heights and sizes demonstrated Motor City Denim Co.'s versatility and wearability. As an executive committee member of Fashion in Detroit, it is apparent that Joe Faris is extremely passionate about Detroit. And his collection is a definite reflection of that.
---
In addition to enjoying the runway shows, I met some really amazing fashionistas, photographers and designers (including Valerie Mayen from Project Runway). Fashion in Detroit was a great experience. I can't wait to see which designers will be included next year!
I've decided to end this blog post with the video that Jeff Garner played right before the Prophetik runway show. It addresses the topic of sustainability and how Detroit is adopting the concept. It made me appreciate the city even more and I hope it does the same for you…
So, who's going with me next time?
*all photos, except for the Heike Jarick collar closeup, are courtesy of photographer extraordinaire (and my newfound buddy), George Clarence. View all of his Fashion in Detroit photos
HERE
.
Labels: Clothing, Runway Shows