Top 5 High-Heel Shearling Boots Under $200
High-heeled shearling boots are the perfect combination of warmth and sass! Although shearling (real and faux) is a current trend in both fashion and footwear, it is also a wardrobe mainstay that never goes out of style. So, investing in a pair of shearling boots won't seem ridiculous a year from now.
Since I love to hunt for great quality items for those of us that do not have money trees growing in our backyard, here are my Top 5 High-Heeled Shearling Boots under $200.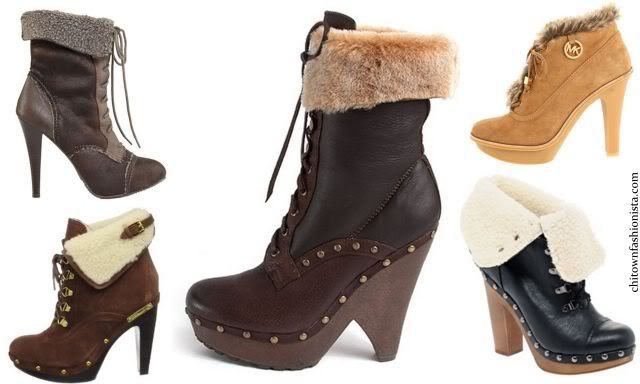 left column:
MAXSTUDIO 'Shearing'
- $179.00
BCBGeneration Melo
- $148.95
right column:
MICHAEL by Michael Kors 'Carlie'
- $195.00
ASOS Fleece Clog Lace
- $120.68
center:
Sam Edelman 'Winsford'
- $208 (Ok. So I cheated a little bit here. But are they not worth the extra 8 bucks?! Plus, this is the best price you'll find on this boot. Thanks, Lori's Shoes!)
Clearly, you can tell I'm fond of the foldover cuff. It's a great way to get two looks in one boot. Add a wooden platform and grommets and you have the perfect weekend boot!
Which pair is YOUR favorite? Do tell.