Janie Bryant MOD: Animal Print on a Budget
Looking to finally jump on the animal print bandwagon or just add something fresh to your existing wardrobe? My two favorite items from the Janie Bryant MOD line may be exactly what you're looking for.
If you didn't know, Janie Bryant is the noteworthy costume designer for the ever-popular TV series
Mad Men
. It is this tidbit of information that explains why this particular line is more appealing than some of the others exclusively on
QVC
.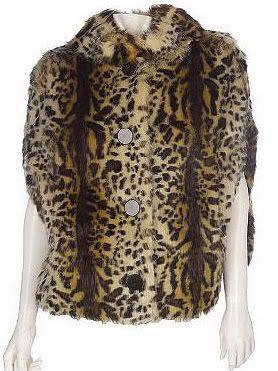 The
Faux

Fur

Capelet
has a classic shape and can be worn with numerous items from a pencil skirt to skinny jeans. The placement of the armholes completely won me over. Priced at $99 and available up to a size 3X, this
capelet
is perfect for bargain shoppers of all sizes.
Janie gives us another classic in the form of a handbag. The
Retro Animal Print Handbag
is
oversized
with a
turn-lock
closure and could work well as a weekend or work bag. Available for under $80, you could pick up this AND the
capelet
sans buyer's remorse. Just don't wear them together, OK?
Now that I've shown you my latest animal print obsessions, tell me, have you always participated in the animal print trend? Are you only recently embracing it? Or will you continue to avoid it like the plague?