NY Fashion Week SS 2011: Accessories Report - Part One
With so many reviews out in the
blogosphere
regarding NY Fashion Week S/S 2011, I figured I'd hone in on my favorite items....ACCESSORIES!
Days 1-4 consisted of many wonderful designers such as Cynthia
Rowley
,
Vena
Cava
, Christian
Siriano
and
Cushnie
et
Ochs
. Each had accessories that stood out just as much - if not more - than the fashion, itself.
Here's what I considered as standout items: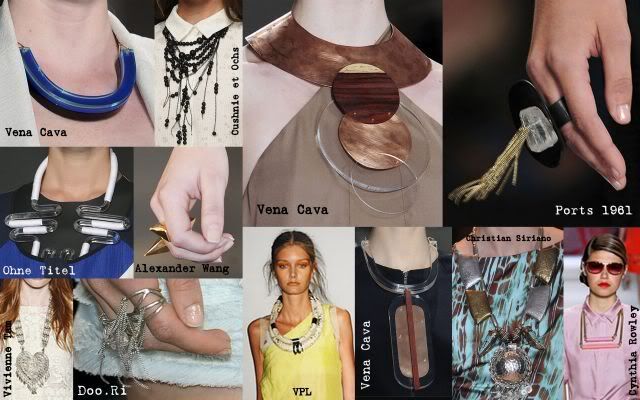 Let's breakdown what was seen...
Handbags in a variety of shapes, colors and textures (the collage of faces on the Z Spoke bag made my day);
Sunglasses in classic shapes but with a twist (peep the double bar on the

DVF

frames);
Nude shoes (something tells me the Christian

Siriano

for

Payless

line will sellout fast);
Spikes on jewelry AND shoes (don't kick ANYONE when wearing those lovely platforms seen at

Cushnie

et

Ochs

);
Chains and geometric shapes reigning supreme on the jewelry front (

Vena

Cava

, I think I love you);
Did you notice any accessories trends for S/S 2011? I'm curious to see what London, Milan and Paris will introduce. As always, I'll keep you posted.
Want to see the rest of what NY Fashion Week had to offer? Stay tuned for the "Accessories Report - Part Two".
*photos courtesy of
nymag.com
**collages created by ChiTown Fashionista
Labels: Accessories, Fashion Week, Handbags, Jewelry, Shoes