Out of Print Tees + GIVEAWAY
I'm a bookworm. Every summer, while growing up, I participated in my school's read-a-thon and read at least 20 books a summer. Nowadays, I have less time to read. I barely have time to get through 2 books in one season, let alone 20. However, I still love books!! In a world obsessed with technology, there's nothing like cracking open a book (not a Kindle) and escaping from life, if only for a few minutes.
So, when I received an email from Out of Print Clothing and learned about how they are celebrating the joy of reading through fashion, I was immediately intrigued.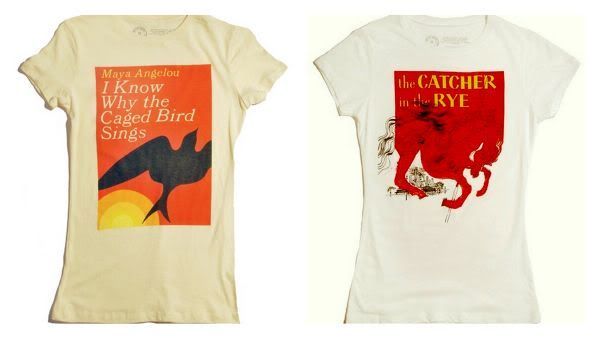 Out of Print Clothing has created a line of t-shirts that bear the vibrant and artistic images of some of the world's greatest novel covers. Using iconic and out-of-print covers of classic books such as "To Kill a Mocking Bird", "Invisible Man", "Catcher in the Rye" and "One Flew Over the Cuckoo's Nest", Out of Print tees give you the opportunity to creatively display your love of reading while simultaneously upping your "cool factor".
In addition to selling great t-shirts, Out of Print Clothing's mission is to provide books to those in need. This is why, for every t-shirt sold, Out of Print donates a book to
Books for Africa
. Wondering how many books they've donated so far? Over 20,000! That's beyond impressive and yet another reason to appreciate this line.
Visit
OutofPrintClothing.com
to check out the entire collection and read more about their mission. And remember that making a purchase will not only benefit you but also the life of others.
Now, for a little fun...
The wonderful folks at Out of Print Clothing are offering a t-shirt to
one
lucky winner!
To enter, you must complete the following steps:*
1. Go to the
Out of Print Clothing website
to view the entire line (check out the men's shirts as well).
2. Leave a comment below stating which shirt you'd love to have and why.
Is it nostalgic? Is it still one of your favorite books of all time? Did it have a lasting effect on your life?
Also include your size and email address.
For additional entries:
-Retweet this post
-Follow Out of Print on
Twitter
or
Facebook
-Follow ChiTown Fashionista on
Twitter
or
Facebook
That's right. Up to four chances to enter!
*This giveaway ends Monday, October 11th, at 11:59pm CST and is open to U.S. residents only
Labels: Clothing, Fashion + Charity, Giveaways