Luxury Garage Sale: The PopUp Consignment Shop
I never thought I'd hear "luxury" and "garage sale" in the same sentence. You may find a diamond in the rough at garage sales. But, typically, luxury items are found at estate sales. So, when I received word about the Luxury Garage Sale shopping event, I did a bit of research.
Luxury Garage Sale
, founded by Brielle Buchberg and Lindsay Segal, is based on the concept of consignment. However, these two ladies will come to your home to help you scour through your closet for valuable designer items or simply pick up whatever you've set aside. Then they take all matters into their own hands. This includes authenticating, researching, pricing and photographing the item(s). From there they decide which platform (i.e.
eBay
, auction houses, antique markets) to sell the items. If the item sells, Luxury Garage Sale gets 35% commission. And if it doesn't? They will return the merchandise or donate it to charity. You decide.
The Luxury Garage Sale Shopping Events are popup shops that allow consumers to purchase all of the designer and vintage items Luxury Garage Sale has acquired. Since this was their first event, I didn't know what to expect. But when I was asked to check my handbag upon arrival, I immediately thought "wow. there must be some really good stuff in there". And boy was I right! There were new and slightly used designer items by the likes of Chanel, Christian Louboutin, Fendi, Tory Burch, Missoni, Carolina Herrera, J Mendel and Burberry. Even the items that weren't made by easily recognizable designers possessed amazing quality and detail!
I was most impressed with the outerwear. There was a highly-priced - but highly worth it - Snow Mink Fur Coat by J Mendel (see photo above) for which I would've sold a kidney. From afar, it appeared to be a regular cable-knit sweater. Then I realized fur was used to create the cable-knit-like design. I'd never seen anything like it! I'm pretty sure my kidney and bank account are glad it wasn't in my size.
Some of my other favorites included a heavily studded leather jacket, a fur coat with a green leather drawstring waist as well as a velvet and wool full-skirted coat with oversized collar.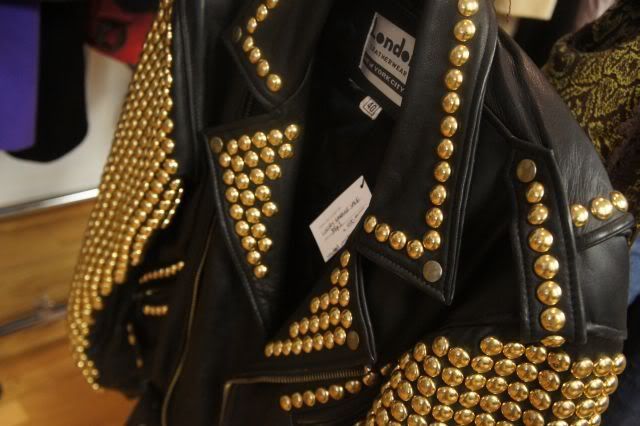 There was also an amazing selection of accessories and shoes. Everything was in excellent condition, with some appearing to never have been worn. Not to mention, they were all competitively priced.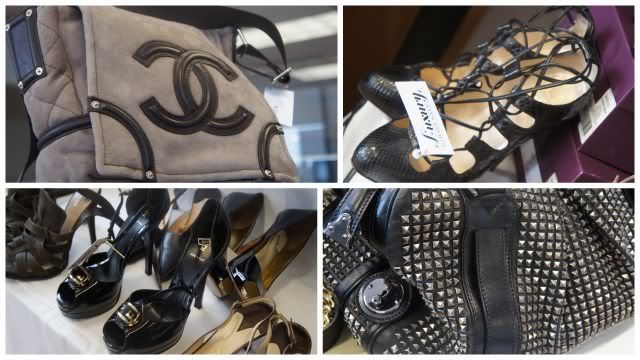 My one and only gripe is that the clothing was not available in a wide range of sizes. Most of the items ranged from X-Small to Medium. With consignment, I know it's out of the owners' control. However, I'm holding out hope that the next time around there will be more in Large and X-Large.
Click
HERE
to learn more about Luxury Garage Sale. Be sure to subscribe to their newsletter to stay abreast of the shopping events, which Lindsay says will occur 3-4 times a year.
I'm SO looking forward to the next one. Aren't you?!
Labels: Clothing, Handbags, Jewelry, Local Finds, Outerwear, Shoes, Shopping, Shopping Events, Vintage