Fashion Focus 2010 The Art of Fashion: From Casual to Couture
The Art of Fashion (hosted by StyleChicago.com) was the final runway show of Fashion Focus 2010. Showcasing both established and emerging designers, it was the most attended runway show of the week.
The featured designers included Lara Miller, Kirk James Collection, Paul Sisti, Lauren Lein, Borris Powell and Elda de la Rosa. The emerging designers included Hector-Javier MonArrez, Lydia Wawrzyniak and Fraley Le.
The show consisted of everything from casual daytime looks to "red carpet" contenders. Overall, my favorites were Kirk James Collection and Hector-Javier MonArrez. These designers presented the most wearable looks that also appealed to my aesthetic. Lydia Wawrzyniak came in as a close second. Her collection definitely made me want to get dolled up and attend an art gallery opening or movie premiere (if ever I were to get invited to one).
Here's a peek at my favorite looks of the evening:
Kirk James Collection
http://www.kirkjamescollection.com
Black and white was the color palette of choice. Without much color, what
could've been
yawn-inducing turned out to be a spectacular presentation. Instead of patterns, Kirk James Collection used varying materials and textures to create the monochromatic effect. I was also a big fan of the flutter sleeves throughout the collection. Femininity at its best.
---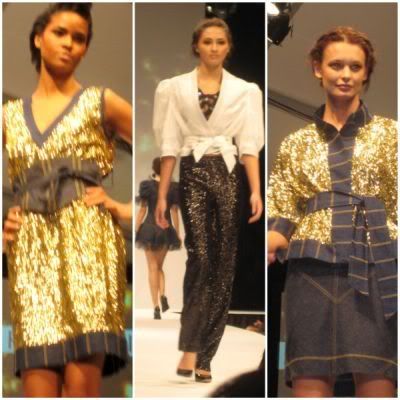 Paul Sisti
http://www.paulsisti.com
Paul Sisti's use of sequin was the most intriguing element of the collection. The unexpected mix of denim and sequin definitely caught my attention. Also, the black sequin pants appeared quite wearable and chic.
---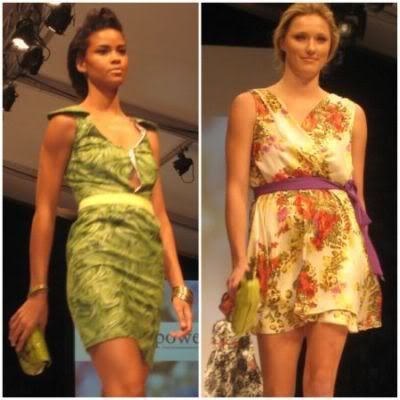 Borris Powell
http://www.borrispowell.com
More than anything, I loved the printed dresses. They were extremely flirty. And the colored sashes around the waist sealed the deal.
---
Elda de la Rosa
http://www.eldadelarosa.com
The details on the back of the Elda de la Rosa dresses were breathtaking. Forget the entrance, you would make an unforgettable EXIT wearing one of these lovelies.
---
Hector-Javier MonArrez*
http://www.themonafashion.com
Cobalt blue was the prominent color in this collection and I didn't mind it one bit. The color was bold but it was the details that captivated the audience. Asymmetric necklines, puff sleeves and exaggerated shoulders helped to make each item a statement piece without the appearance of trying too hard.
---
Lydia Wawrzyniak
http://www.ellezeedesigns.com
As the most artistic designer of the night, Lydia Wawrzyniak showcased the beauty of couture. The craftsmanship and fit were both undeniably amazing.
---
Click
HERE
to view photos from the entire show. Then, come back and tell me your favorite(s)?
*The Hector-Javier MonArrez photos were sourced from StyleChicago.com.
Labels: Clothing, Fashion Focus Chicago, Fashion Week, Local Finds, Runway Shows