'Fringe Binge' - My Search for the Ultimate Tassel Scarf
Ever since I saw Sakina, of the Saks in the City blog, wear a tassel scarf (check it out in
this post
), I've been on the hunt for one. Scarves with stringy, fringe-like tassels are pretty easy to come by. However, finding scarves with full tassels (several fringes knotted together in a bunch) is a fairly difficult task.
Since Spring is literally breathing down my neck, my goal was not only to find tassel scarves but to find ones in lightweight fabrics such as cotton and silk. Scarves are great accessories and the perfect alternative to wearing a necklace. The full tassel scarves speak loudly and they're the perfect way to adorn your neck and make a statement minus the weight of a typical statement necklace. Plus, with the growing number of ways to tie a scarf, the styling possibilities are endless!
During my exhaustive search, I discovered that the UK-based retailer,
All Saints
, has several options in stock (see below). From prints to solids, I truly want them all - although, the ditzy floral print is my favorite.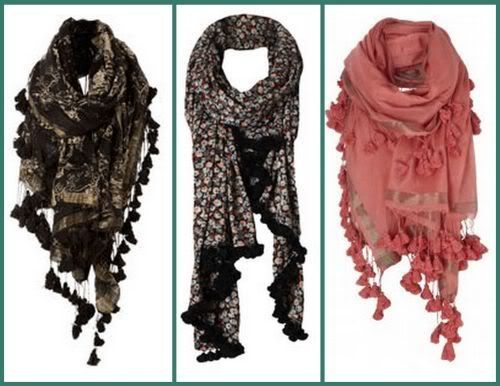 I also found an adorable tie-dye tassel scarf at ASOS (click
here
to view). It's available in blue, pink AND purple! You know how we love having options.
If you're like me, you probably already have several scarves and wraps. But just like shoes, a girl can never have too many, right?! Right.
Labels: Accessories